Discover more from To Thee, Forever Ago
A newsletter about South Carolina, the Gamecocks, and the technologies that mediate our fandom.
Dowell Loggains and the six months in 2010 that fast-tracked his coaching career
And some other thoughts on South Carolina's new offensive coordinator.
After nearly a week of message-board speculation, South Carolina finally announced Tuesday afternoon that Shane Beamer has officially hired Arkansas tight ends coach Dowell Loggains to replace the Nebraska-bound Marcus Satterfield. I have not chosen this moment to weigh in on whether Loggains will be a good hire, though I reserve the right to revisit that subject in the near future.
Instead, I'm going to share some interesting things I learned while trying to answer for myself the question, "Who is Dowell Loggains?"
Titan all the way up
In the span of six months in 2010, Loggains rose from an offensive quality control staffer on the Tennessee Titans to backup offensive coordinator. (Hang tight, I'll explain the "backup" part.) The first domino fell in Jan. 2010, when Southern Cal hired Lane Kiffin away from Tennessee. That summer, Kiffin took another short-time Volunteer State resident out west with him: newly hired Titans running backs coach Kennedy Pola. The hire, made on the eve of NFL training camp, was so disruptive to Tennessee head coach Jeff Fisher's plans that the Titans sued the other USC for damages. (In April 2011, the parties reached an out-of-court settlement.)
With Pola gone after just six months on the job, the Titans scrambled to produce an internal solution, reshuffling responsibilities to ensure everything was covered. The previous quarterbacks coach shifted to cover running backs, and 30-year-old Dowell Loggains stepped in to the QB vacancy.
Suddenly, Loggains was the direct report for a franchise quarterback just two years his junior, who was fresh off of winning the NFL's Comeback Player of the Year award. As if to drive home the point, Vince Young towered over his new position coach by an entire foot.
But Loggains' whirlwind 2010 wasn't done yet.
In November, Titans offensive coordinator Mike Heimerdinger received a surprise cancer diagnosis. Though Heimerdinger never formally relinquished his position, his availability to call plays was a gametime decision each week during the final two months of the season. As a result, the Titans rehearsed a backup plan in which the responsibility of playcalling fell to Loggains, with longtime Fisher assistant Mike Munchak coordinating the running game.
Naturally, the Titans beat writers were keen to know when Loggains last called plays.
"That would be never," Loggains quipped.
At the end of the 2010 season, Tennessee fired Jeff Fisher, replacing him with Munchak, who retained Loggains and four others from Fisher's staff. The next year, Munchak fought off an attempt by the Bears to hire Loggains away and, in the middle of the 2012 season, promoted Loggains to offensive coordinator — the youngest in the NFL.
"He's learned from a lot of people," Munchak said, announcing the promotion. "He's a guy that has no ego. He doesn't worry about who's getting the attention, he just wants to be good at what he does. He's the kind of guy that people like working with, they want to help."
Two years later, the Titans fired Munchak when he refused to clear out several members of his staff, including Loggains.
What prompted Munchak to stick his neck out for Loggains — not once, twice, but three times? Only one man alive can say for sure. But maybe the bond was forged in 2010, when the two men were making backup plans for the offense they'd run if their boss was too sick to come to work on Sunday.
A shovel-pass FG fake was the on-field highlight of Dowell Loggains' collegiate career
Dowell Loggains was an excellent high school quarterback in Abilene, Texas, but when your growth spurt ends at 5'5, your options at the collegiate level are limited. So Loggains filled, as he put it, the only role he could possibly fill: holder. Holding the ball for placekickers is unglamorous but essential work; in general, they're only going to make a movie about the holder's exploits if something goes tragically wrong.
But Loggains did nevertheless find a couple ways to stand out. He appears to be best-remembered for some extremely heads-up stewardship of his kicker during the Razorbacks' SEC West-clinching upset of LSU in 2002, when Nick Saban attempted to ice the kicker on the game-winning PAT. The point-after try had been pushed back 15 yards because of the touchdown celebration. During the timeout, Loggains pulled his kicker over to the sideline and held some practice kicks to keep him fresh.
The lone pass attempt of his career, if you can call it a pass attempt — the box score does — came in 2002 against Boise State. Facing a 4th-and-8 in the fourth quarter, Arkansas lined up for a 50-yard field goal try. What happened instead was Loggains received the snap and, still on his knees, pitched the ball to a back sprinting across the back of the field goal unit, who picked up the eight required yards plus three more.
Loggains seems to have an interest in trick plays more generally
Dowell Loggains knew he wanted to coach his whole life, so back in 1995 — his freshman year of high school — he started keeping a notebook of plays he recorded on video tapes ... One of those plays he wrote down happened in 2000, while Loggains was a freshman at the University of Arkansas. 

With the ball on the Green Bay Packers' 2-yard line, Tampa Bay Buccaneers quarterback Shaun King handed the ball off to running back Warrick Dunn. Dunn then handed off to fullback Mike Alstott, who was running in the opposite direction. Alstott was met by a Packers defender, but flipped a pitch back to King, who caught it at the five-yard line and bolted into the end zone. 
Loggains' decades-long obsession with this play paid off, 17 years later, when he used it to dial up one of the more memorable two-point conversions in recent history.
When Loggains was with the Titans, one of his co-workers was Luke Steckel, son of former Tampa Bay offensive coordinator Les Steckel. It was the elder Steckel who was the architect of the King-Dunn-Alstott play.
"I got to meet coach Steckel one day," Loggains said. "We go to Easter with (former Titans offensive coordinator) Chris Palmer, Mike Munchak and Les Steckel and his wife. I had this notebook and I said, 'Coach, I've got to ask you about this one play, You ran it 13 years ago.' He called it doughnut.

"… So I've always had this play, as a coaching staff upstairs, we had this play. But you've got to have Zach Miller. You gotta have a tight end or a Mike Alstott that you trust with the ball-handling. So it's just an option play off that. That's where the play came from." 
Loggains' plan was always to coach in college — then life happened
"My goal since I was five years old has always been the same, and that's to one day be head coach of the University of Arkansas," Loggains said in 2013. "That's what I work towards every day."
From the moment Dowell Loggains walked on at Arkansas, he knew the point of his walking on was not the scant playing time he'd get for the Razorbacks. It was about making connections for an eventual coaching career in the college game.
"Since my goal always was to be the Arkansas coach, I felt like I should go to school [in Fayetteville] and learn everything I could about Arkansas and the SEC."
But in 2005 his life took a different path when he passed up a graduate assistantship at an SEC school for a low-level job with the Dallas Cowboys, breaking down film and preparing statistical analysis. This was work Loggains had first learned to do at Arkansas, when he was fighting for his spot every week on the team plane.
From a 2016 feature in the Chicago Tribune:
Loggains would arrive with the coaches at 7 a.m. and draw pictures of plays for use in practice. He edited video and wrote scouting reports. Eventually, the staff trusted him to signal in plays. He wore a radio headset on game days and was in charge of special teams substitutions.
Fifteen years after Loggains' path veered away from the college game, it veered back in 2021 when he got a job as tight ends coach at Arkansas — albeit several rungs down the ladder from the position he dreamed of returning to. In a short period of time, Loggains proved himself a capable recruiter, to the point that his departure has sent Arkansas into something of a crisis mode, as the Razorbacks try to see their 16th-ranked 2023 class across the finish line.
"Loggains was the lead recruiter or a significant contributor for at least six of the Hogs' current commitments, including four of Arkansas' eight four-star pledges for the Class of 2023," wrote Danny West of HawgSports. "While not every commitment chose the Razorbacks for Loggains and Loggains only, recruits and parents have been expressing concern over the matter for several days leading up to Monday's report."
Now, in taking a step away from Arkansas, Loggains has a chance to further restore a reputation tarnished by six, let's be charitable and say, "undistinguished" seasons in charge of NFL offenses.
To Thee, Forever Ago is a reader-supported publication. To receive new posts and support my work, consider becoming a free or paid subscriber.
There aren't many South Carolina fans who expect this hire to go right. That's why USC enlisted Connor Shaw and Jay Cutler to act as — in the public relations jargon — external validators.
I myself have landed somewhere around Dowell Loggains agnosticism. Maybe it's the contrarian in me, looking around at everyone else having their mind made up and, therefore, concluding that the strongest take is, actually, to have no take at all.
But a bigger part of my uncertainty is that I just no longer have the confidence to predict which hires will work and which ones won't. The Marcus Satterfield hire was a disaster for 1.8 years and then suddenly his offense was torching Clemson and Tennessee, and I was … sad to see him go?
Will the Dowell Loggains hire work? I don't know. It will, or it won't.
Despite Loggains' discouraging track record as an offensive coordinator, Shane Beamer sees something in him. In fact, everywhere Loggains goes, he seems to leave a trail of people who see something in him. Between now and September, the only thing we can do is cup our eyes and squint, on the off chance that maybe we will see it too.
Drew a Gamecock in your Secret Santa? Give them the gift of great writing!
Did you know you can give one month (or one year) of a subscription to this newsletter as a gift? Could be a thing worth looking into if you end up needing a last-minute, virtual stocking stuffer.
If you gift someone an annual sub, let me know (Substack tells me whose subscription is a gift but not who gave it), and I'll send you a free TTFA cofee mug.
Yes, there are TTFA coffee mugs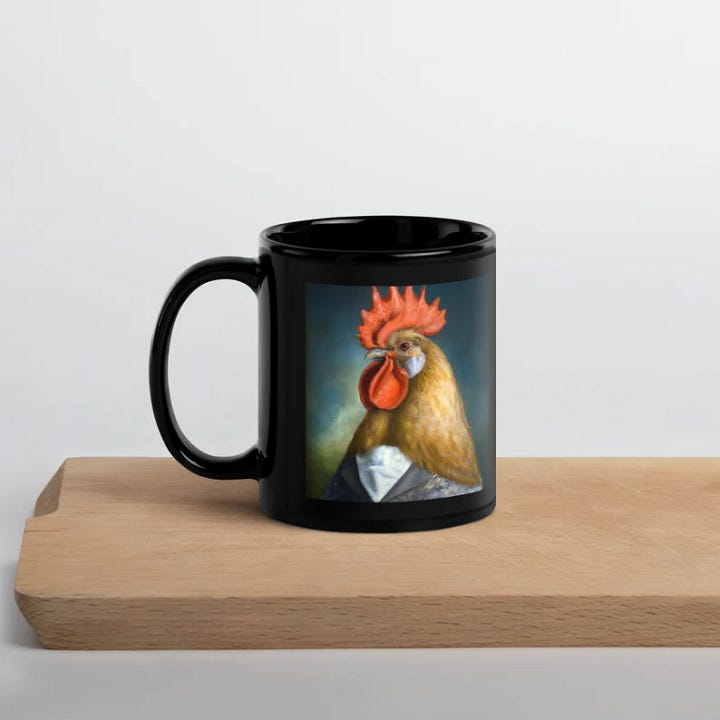 Click here to visit my Etsy shop if you'd like to support the site by purchasing a mug! I ordered a few samples, and I am happy to say that I can personally vouch for the quality.
What I'm reading
Just returned to the library:
The Old Woman With The Knife by Gu Byeong-mo

Index, A History of the by Dennis Duncan
Just picked up from the library:
A cognitive psychology of mass communication by Richard Jackson Harris and Fred W. Sanborn

Strangers to Ourselves by Rachel Aviv

The Candy House by Jennifer Egan

Beyond Measure by James Vincent